DER EIGENSINNIGE UND WIE ER DIE WELT SIEHT
Who is the obstinate (i.e. "eigensinnig") character? How can they be described? How do they live, how do they impact on the world and how do they let themselves be influenced by it? What do they like, what do they find repulsive, what is their way of thinking and where are they headed? I have been asking myself these questions for a long time and keep coming to the conclusion that it is almost impossible to describe obstinate characters – because on the one hand, words are inadequate and things keep changing, and on the other hand, obstinate characters are so essentially anti-static and subject to constant transformation that any attempt of putting them into words can only be a snapshot or describe the very fact of their being in constant motion. Yet I am convinced that obstinate characters also have an immutable, essential core, and I will therefore try to portray them here.
DER EIGENSINNIGE IST EIN PARADOXES WESEN.
Of course, every person is contradictory, because every life is characterized by clashing contradictions and shaped by the simultaneous existence of contradictory thoughts and emotions. What sets obstinate characters apart is the fact that they are intensely aware of these contradictions, they sense their presence and feel the shockwaves when they clash. But they are not unsettled by them (anymore). They have learned to nestle into the tension these contradictions create. And they are not only interested in enduring contradictions (anymore). They love enduring the contradictions and succeed in harnessing the energy that is generated in those in-between spaces. In this respect, they are intermediate beings, skipping back and forth between the poles of above and below, right and left, front and back. Moving in open spaces where there is air for breathing and where no prefabricated opinions and defined standards put people into boxes. They enjoy being such intermediate beings because these in-between spaces are filled with freedom. And freedom is a place filled with possibilities crying out for fulfillment. This does not scare obstinate characters, on the contrary:
"
As soon as their form can be defined,
they negate it again.
EIGENSINNIG WIEN
ER LIEBT DIE VERÄNDERUNG.
They cannot bear the feeling of things coming to a standstill, and this feeling is unbearably loud to them when others cannot even hear it yet. They are always on the move. As anti-static beings, obstinate characters do not adhere to any form. As soon as their form can be defined, they negate it again. And then they slip into a new form, only to deconstruct it again right away. It is a never-ending task, but they cannot help themselves and they love it so. Is it exhausting? Yes. Is it fulfilling? To obstinate characters, it definitely is, because it is consistent with their innermost core. And this core is firm and strong, indestructible and unalterable – despite their addiction to change, despite all those different molds into which they cast themselves and from which they then pour out again.
Obstinate characters flow through life. But they do not flow with the current, they do not get lost in the waves or the movements of the stream. They flow at their own speed, in their own direction, at their own depth; and all these parameters can change at any moment – of their own accord, or because the obstinate character wants them to.
DER EIGENSINNIGE IST GLEICHZEITIG INNERHALB UND AUSSERHALB DER WELT.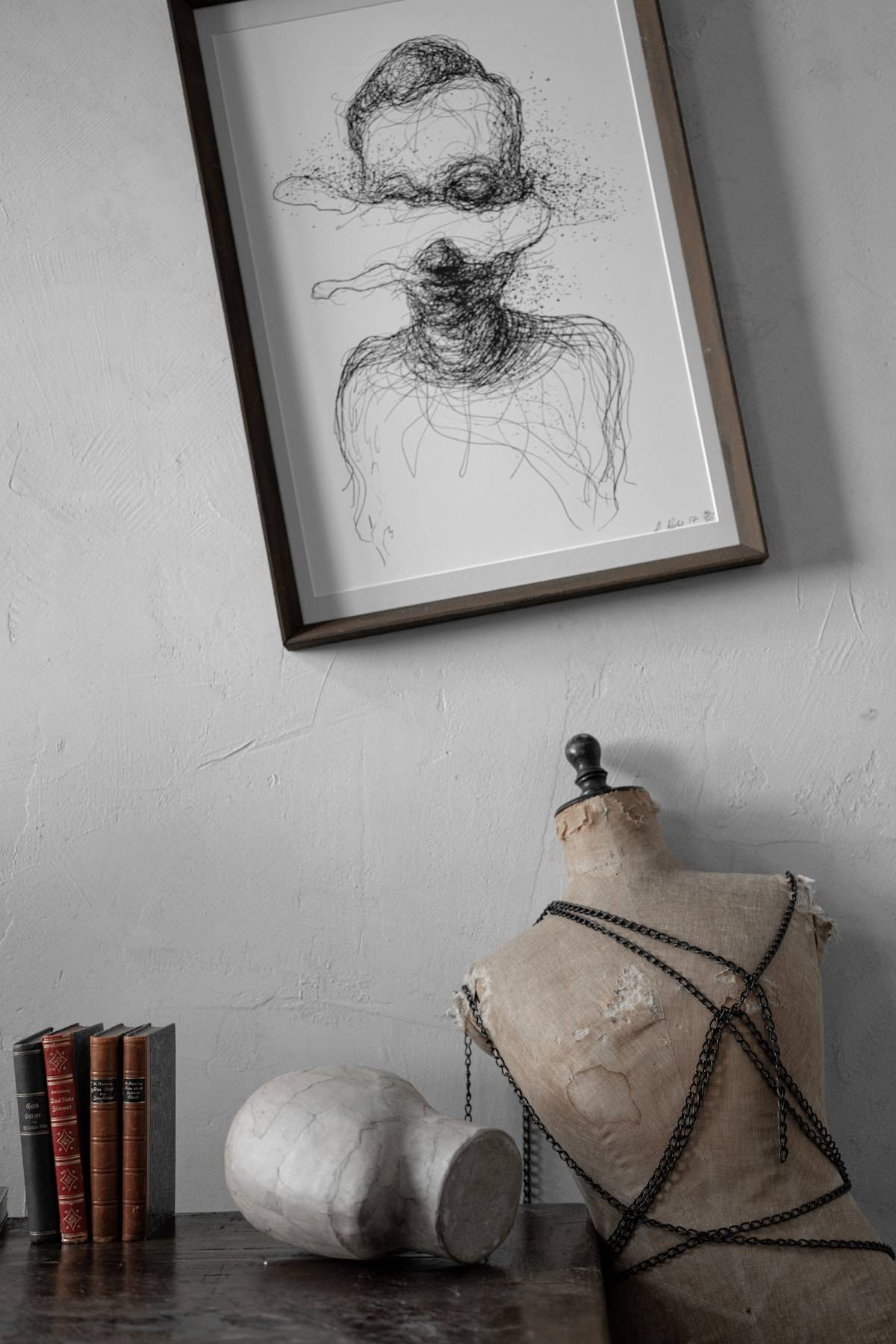 They live consciously, always observing themselves and their actions in the world from a distance, examining them, readjusting them if they consider it necessary – as if there were a part of them raising an alarm as soon as their actions don't seem right anymore, no longer in accord with what their obstinacy prescribes – this compass guiding them through life. They are sceptics and doubters. They do not take anything for granted, because that would be inconsistent with their natural disposition. But what is their natural disposition?
DER EIGENSINNIGE KANN NICHT ANDERS. UND DAS IST GUT SO.
Someone once said, "Art is not something you can do, but something you have to do." In the same way, obstinacy is deeply ingrained in obstinate characters. It is planted within them in such an extensive and loud way that they cannot help but express it, otherwise they would choke on it. They only feel authentic when they act on it, when they grant it the space it needs. That is why they love freedom and expanding in space. It is impossible for them to feel inauthentic because their obstinacy can neither be denied nor suppressed. It has to be lived and expressed, otherwise the body it inhabits revolts and the obstinacy turns against them. The wonderful thing about being obstinate is that obstinate characters love to apply their obstinacy. Even though it isn't always easy. On the contrary, it is rarely the path of least resistance. It usually means opting for untrodden paths and making them their own with determined steps. But fortunately, they feel at home in the sphere of the unknown. That is why they do not really fit in anywhere and are simultaneously at home everywhere – as long as they are not locked into rooms or categories.
HIER DRÄNGT SICH DIE FRAGE AUF: HAT JEDER MENSCH EINEN EIGENSINN?
I think they do. But in some people it is asleep, whereas in others it is small and quiet, which makes it easy to suppress or conceal it. Possessing obstinacy is one thing. But being aware of it, manifesting it and putting it into practice every single day is quite a different matter. That is what distinguishes obstinate characters from not-yet- or not-sufficiently-obstinate characters, or from those who simply do not want to be obstinate. It is important to state that obstinacy always manifests itself in the outside world. And for obstinate characters, this means breaking new ground.
"
Von zwei Übeln wähle ich stets jenes,
pick the one I never tried before.
MAE WEST
"VON ZWEI ÜBELN WÄHLE ICH STETS JENES, DAS ICH NOCH NICHT KENNE", HAT DIE SCHAUSPIELERIN MAE WEST GESAGT.

Entering unknown terrain may be exhausting and hard work, but obstinate characters know that this way of life promises the greatest and most rewarding insights. They are doers rather than just talkers. They strive for advancement, for themselves and also for the world. Their pulsating, outward-urging inner core wants to have an impact on the world and wake the obstinacy that lies dormant in others. In this sense, they are both egotistic and altruistic. When they set out for the unknown, they are proud and humble at the same time. For they know that many things simply happen and they cannot control everything. They view themselves as creators of their world but not as almighty, because they are able to distinguish between the things they can change and the things they have to accept with humility. In the rhythm of life, things do not always run smoothly.
DESHALB AGIERT DER EIGENSINNIGE RHYTHMISCH.

Lethargy, apathy, standstill, acting without awareness, opportunism – all these things upset obstinate characters and encourage them to act. They become unbalanced and agitated and develop the need to channel these energies into the outside world.
Does this mean that obstinate characters always act purposefully, always pursue a mission, always feel compelled to take action? That they are vagrant minds, driven by their restlessness? Not necessarily. Because they also enjoy indulging in pleasure and loss of control. If the indulgence is a conscious choice, they give in to it with full conviction. Because they know that new things also arise from pauses and losses. And creating new things is what motivates them. In this respect, they are relaxed despite being driven, and despite having to create and renew, they are able to pause. They know when to be quiet and when to raise their voice. They can tell when it is appropriate to speed up or slow down. They sense whether they need to withdraw or press ahead. Much like the tide going out and coming in, they alternate withdrawing into their inner life with walking out into the world, remaining silent with screaming out.
All this sounds as if they never made any mistakes, as if they were perfect. Far from it. Because how could we evolve without making mistakes?
DER EIGENSINNIGE LEBT SEIN UNVOLLSTÄNDIG-SEIN VOLLSTÄNDIG AUS.

They recognize themselves as incomplete beings who never stand still and can never be finished. In this respect, they will never arrive – but that does not keep them from setting goals. They strive for perfection and aspire to it, even though they know that they will never reach it. They mature through their experiences; their scars are monuments that serve as warnings or as indicators whether their current direction is still the right one. And they always let their obstinacy guide them. It sees the world the way it is, but also the way it might be.
"
If there is a sense of reality,
then there also has to be a sense of possibility.
ROBERT MUSIL
DER SCHRIFTSTELLER ROBERT MUSIL SAGTE EINMAL: "WENN ES EINEN WIRKLICHKEITSSINN GIBT, MUSS ES AUCH EINEN MÖGLICHKEITSSINN GEBEN."

Obstinate characters see possibilities. They know that every moment opens up innumerable paths from which they may choose. They love breaking habits. Lethargy and unconscious indifference are anathema to them.
"Misstraue jedem, der alles gut findet, und dem, der alles für schlecht hält, noch mehr aber dem, dem alles gleichgültig ist", wie der Philosoph Johann Caspar Lavater es einmal so treffend formuliert hat. Weil aber so viel Leidenschaftslosigkeit in der Luft schwebt, kann er nicht anders, als immer wieder auf sich aufmerksam zu machen. Wie sonst kann das kollektive Unbewusste aufgebrochen werden?
DARUM MUSS DER EIGENSINNIGE MANCHMAL STÖREN.

Er fordert sein Umfeld heraus wie sich selber, wenn er in einen inneren Dialog tritt und Dinge mit sich ausverhandelt. Wenn ihn etwas stört, muss er aufrütteln, aufzeigen, Bewusstheit herstellen. Er reißt andere aus ihrer Lethargie, weckt sie auf aus dem Koma der unhinterfragten Gewohnheiten. Er ist ein Störenfried, wenn er es für nötig erachtet. Er ist ein Unruhestifter, wenn er es für sinnvoll hält. Er kracht gerne mit voller Wucht in Gedankenkonstrukte, die als wahr und richtig empfunden werden, und entlarvt sie auf diese Art und Weise als falsche Wahrheiten.
"
Misstraue jedem, der alles gut findet, und dem,
and the person who finds everything evil,
and mistrust even more the person who is indifferent to everything.
JOHANN CASPAR LAVATER
ABER DER EIGENSINN IST NICHT GLEICH STARSINN.

Obstinate characters are not against anything as a matter of principle. They only shout NO or YES if they deem it right. They do not bang their head against a wall just to bang their head against a wall or to attract attention. They only do so if it provides them with a potential way – a direct, fast, possibly brutal way, but one that leads to a place of insight. Things are often moving too slowly and sluggishly for them, and therefore they like to act quickly, maybe also a little rashly. But they learn from the head wounds they suffer when they run against walls. This is how they evolve. They work in a structured-yet-chaotic way and extend their impulsiveness into well-considered action, thus infusing it with an extraordinary amount of energy.
WIE DIE WELT AUF IHN WIRKT?

Über die Sinne erfährt der Eigensinnige die Welt. Sein Eigensinn leitet ihn dabei – er bestimmt, was wahrgenommen und was ignoriert werden soll. Dabei achtet er besonders auf das, was starke sinnliche und oder emotionale Reaktionen in ihm auslöst, denn dabei handelt es sich um seine Wegweiser. Mit seinem Verstand überprüft er diese Reaktionen dann und entscheidet das weitere Vorgehen. Insofern verbindet er Intuition und Verstand, die einander ergänzen. Er lernt stets dazu, agiert vorwärtsgerichtet und denkt in diesem Sinne nicht nach, sondern vor. Er lebt nicht in der Vergangenheit, sondern akzeptiert ihr Vorbeisein und nimmt nur jene Dinge aus vergangenen Zeiten mit, die ihn auf seinem eigensinnigen Weg weiterbringen. Er handelt – nach Søren Kierkegaard – vorwärts und versteht rückwärts. Er spürt viel und antizipiert dadurch Dinge in der Luft, die er dann manifestiert. So ist er seiner Zeit oft voraus. Aber Trendsetter zu sein, das ist nicht sein Anspruch, denn er lebt in einer Sphäre der Raum- und Zeitlosigkeit.
Obstinate characters are all this and so much more, but in the same way that they are conscious of their wabi-sabi-like imperfection, I am aware that this text can only begin to touch on their many facets. Somewhere, sometime, words end. For instance, here and now.
Toni Woldrich
eigensinnig wien