An Attempt to Gauge a Multifaceted Character
In his latest novel, Yoga, French author Emmanuel Carrère writes about people who like letting the process itself guide them when they create something: "The less the film or the book is like what they had in mind, the longer and more wayward the path between starting point and endpoint becomes, the more of a surprise the result is and the more satisfied they are. What counts for them is the journey, not the destination – or in the words of Chögyam Trungpa: 'The path is the goal.'"

What Carrère says about films and literature can be applied to life as a whole. Surrendering to it to a certain extent, reacting to the question it poses, and learning to love the path by taking detours can be an enriching philosophy: through this act of surrendering, we allow ourselves to be shaped and we shape ourselves. . This kind of self-design, oriented towards movement and transformation, becomes a pleasurable task, it becomes self-abandonment in a positive sense – because the only thing we have to give up is the illusion of control.
"LIVING ITSELF MEANS
NOTHING OTHER THAN
BEING QUESTIONED;
OUR WHOLE ACT OF BEING
IS NOTHING MORE
THAN RESPONDING TO -
OF BEING RESPONSIBLE
TOWARD - LIFE."
This pleasure derived from change, from transformation, is something all eigensinnig (i.e. obstinate) characters have in common. Change, which goes hand in hand with a movement through time (inevitably) and – usually, but not always! – through space, is, after all, the only certainty. Rather than striving for a goal at which we will "arrive at last" (an illusion!), the process itself becomes the goal, the experiment becomes the preferred method.
A great way to experiment with our own identity and to explore ourselves is the medium of clothing. We can use it to approach our self; to find out who we can be if we want to and what nature has endowed us with. We can surprise ourselves, and maybe others as well. We can prove to ourselves that we can surpass our current self, which is always just a snapshot in time, that we can expand it into spheres and worlds yet unknown. For everything flows, as Heraclitus already observed, and nothing ever lasts. These transitions were described by Polish poet Wisława Szymborska in the following poem, which is so to the point that you can feel it physically – it is worth reading out loud:
THE THREE ODDEST WORDS

WHEN I PRONOUNCE THE WORD FUTURE,
THE FIRST SYLLABLE ALREADY
BELONGS TO THE PAST.

WHEN I PRONOUNCE THE WORD SILENCE,
I DESTROY IT.

WHEN I PRONOUNCE THE WORD NOTHING,
I MAKE SOMETHING
NO NON-BEING CAN HOLD.
Obstinacy cannot be pigeonholed, and it often reveals itself in in-between spaces. Today we would like to open up one such space – by trying to measure the eigensinnig man on the following centimeters of your screen. As a matter of course, this attempt does not make any claim to completeness. And instead of genders we prefer to speak of individuals. As you probably know, a wide range of garments you can buy in our store can be worn by any gender.
As we did when we talked about the eigensinnig woman and the eigensinnig individual who wants to be seen as female, we will assume the existence of certain innate aspects of the eigensinnig man which he can "activate" in various combinations, depending on his mood and stage of life. What all the aspects share is their desire for change – some of them more, others less. That is why they flow in and out of one another in an organic way, creating the individual being that stands for itself and is always part of something bigger: The big picture is reflected in the small one.
Begleiten Sie uns auf der Suche nach dem, was den eigensinnigen Mann ausmacht.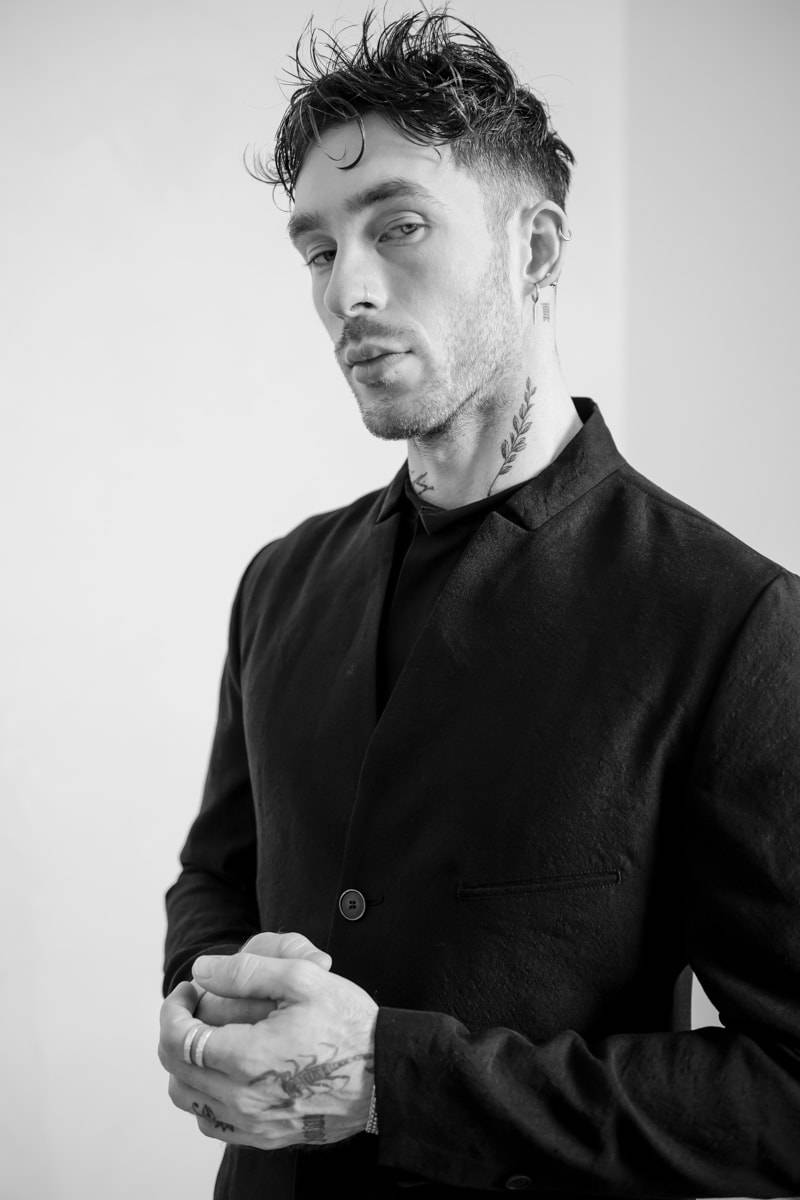 "EVERYTHING IN ITS RIGHT PLACE."
The elegant aspect of the eigensinnig man values order and clarity; despite, or maybe even because of, all inward and outward inconsistencies. He likes the impression of unagitated harmony – like something clicking into placeor a stencil that was slightly askew finding its right place again, creating this satisfying feeling of "Things are right now." Everything in its right place. The elegant aspect is calm, gentle, and deliberate, with only minimal doses of playfulness. He likes the ritual of dressing up for occasions – it provides him with a structure and "renders time habitable like a house" (Byung-Chul Han). He does not feel restricted by etiquette, on the contrary: he takes the liberty of interpreting it without undermining it.
The Elegant Man likes classic cuts, which is why he enjoys wearing classic sports jackets, shirts, and narrow trousers, primarily in black and made of delicate high-quality materials such as linen or soft cotton – pieces he likes to combine as ensembles and whose particularities only become visible at second glance through subtle details.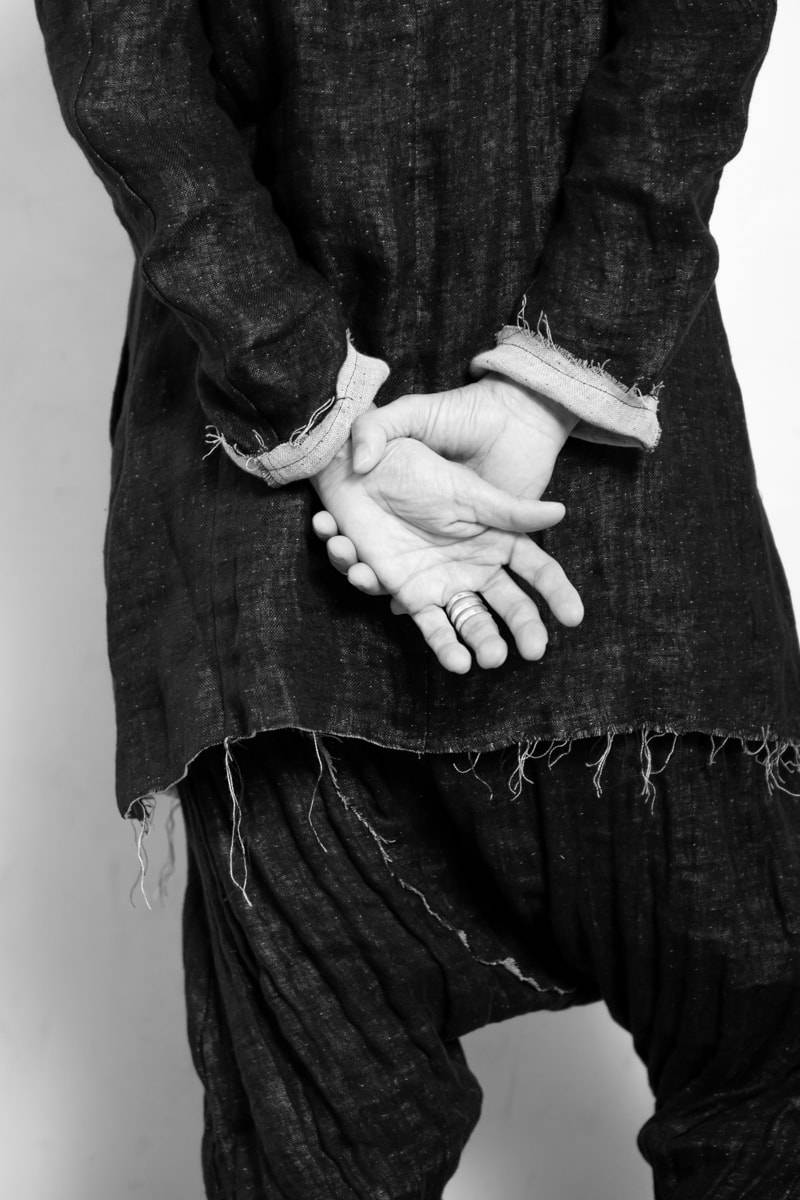 "BETTER A DIAMOND WITH A FLAW THAN A PEBBLE WITHOUT."
Whereas the elegant aspect of the eigensinnig man needs a certain measure of structure, the unpolished aspect appreciates a certain measure of chaos. He is aware that everything is a process of becoming. That is why he does not focus on a future goal but on a path that leads into a certain direction – and which may also branch off. The unpolished aspect is process-oriented, enjoys trying himself out and regards the things other people call mistakes as necessary steps in order to become himself, an ongoing process that is never finished. He consciously scandalizes because he is not afraid of mistakes. This provides him with a self-confidence which he also radiates and that attracts others.
THE JOY OF BREAKING RULES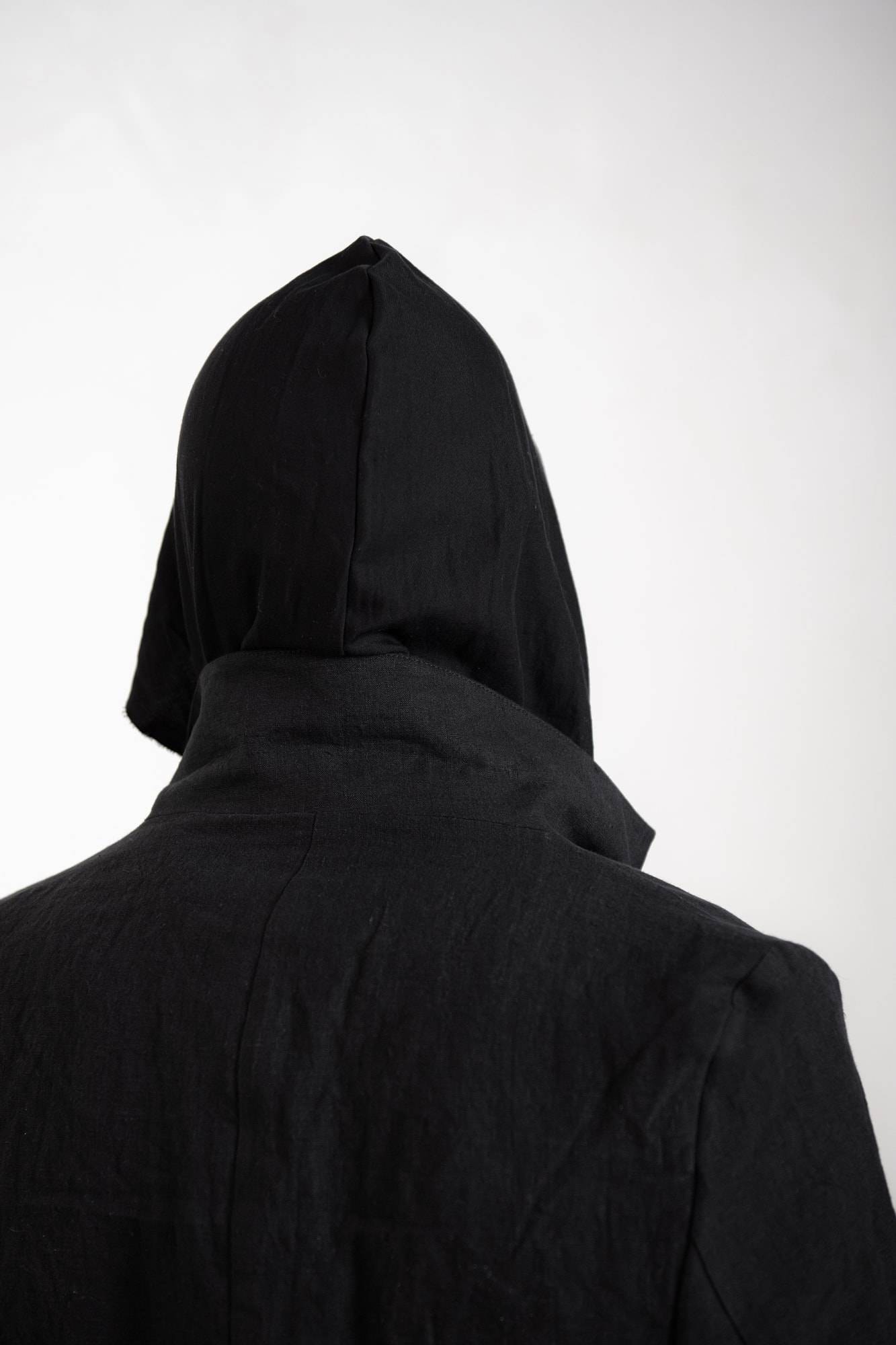 "LEARN THE RULES LIKE A PRO,
SO YOU CAN
BREAK THEM LIKE AN ARTIST."
Even more so than the frequently scandalizing unpolished one, the unconventional aspect enjoys questioning and deconstructing norms and conventions. But he is not a nonconformist to attract attention and stand out – he only is if he has good reasons for it. His nonconformism does not scream; it whispers. He does not reject conventions per se, for he is also conscious of their potentially soothing effect in terms of security. But he is adept at distinguishing the beneficial ones from those that constrict him like a corset laced too tightly.
For his clothes, the Unconventional Man likes subtle details. He appreciates it when classic elements meet more experimental ones – black T-shirts with unconventional cuts, elegantly cut sports jackets with a hood, black trousers with legs whose length can be varied, wide trousers with a low crotch.


THE GREED FOR TRANSFORMATION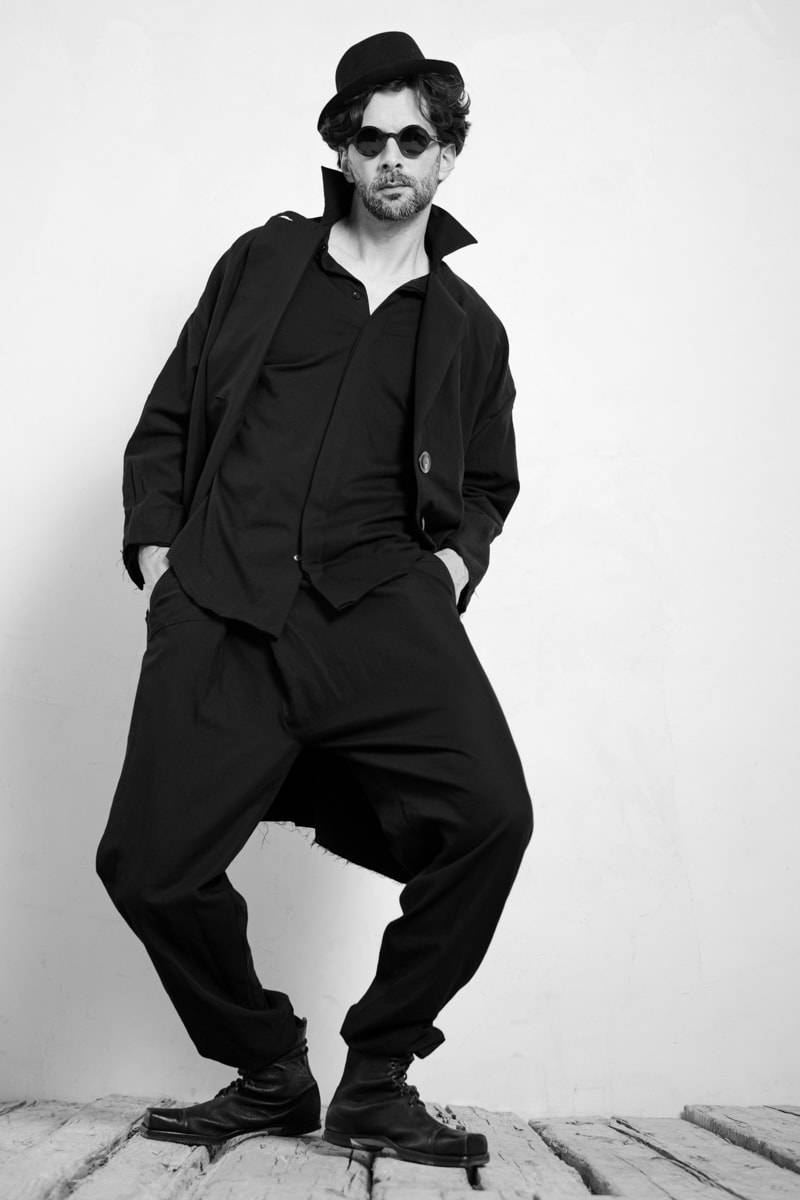 "THE ROAD OF EXCESS
LEADS TO THE
PALACE OF WISDOM."
Whereas the nonconformism of the unconventional aspect whispers, the nonconformism of the excessive aspect raises its voice. This rebellious aspect of the eigensinnig man enjoys venturing into unknown territory in true avant-garde style and loves being the "first". He never settles for the status quo, his restlessness fills even the deepest layers of his being, and he also expresses this restlessness. He absorbs everything that moves him, he is greedy for new things and always on the move, with other people or on his own. He surprises and wants to be surprised; he is loud, wild, expressive. Winning, unrestrained, freedom-loving.
THE GIFT OF BEING UNFLAPPABLE.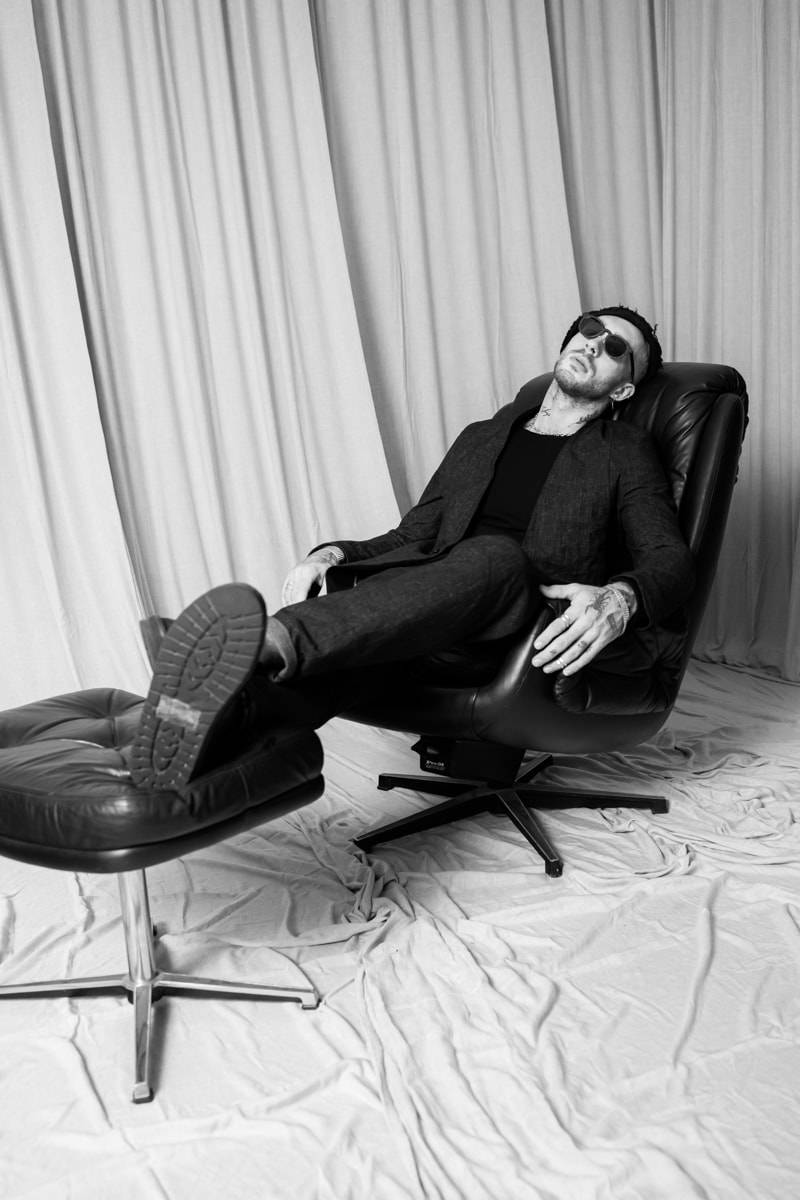 The equanimous aspect of the eigensinnig man rests within himself and feels no desire for "higher, bigger, more" – and this calm disposition distinguishes him from the storm represented by the excessive aspect. He is content with what he has and what he is, and he does not worry about things he cannot change. In this way, he is something of a modern Stoic, moving through the world with open eyes and open ears without letting external factors affect him too much. This does not at all mean that he is passive – but he is able to tell the things he can influence from those that are beyond his power.
The Equanimous Man likes casual, comfortable, flowing clothes which can also be oversized, made of materials that feel as good as his favorite pair of sweatpants. Rather than striking patterns or cuts, he prefers plain yet high-quality and durable garments that can be combined in many ways and worn for a wide range of occasions.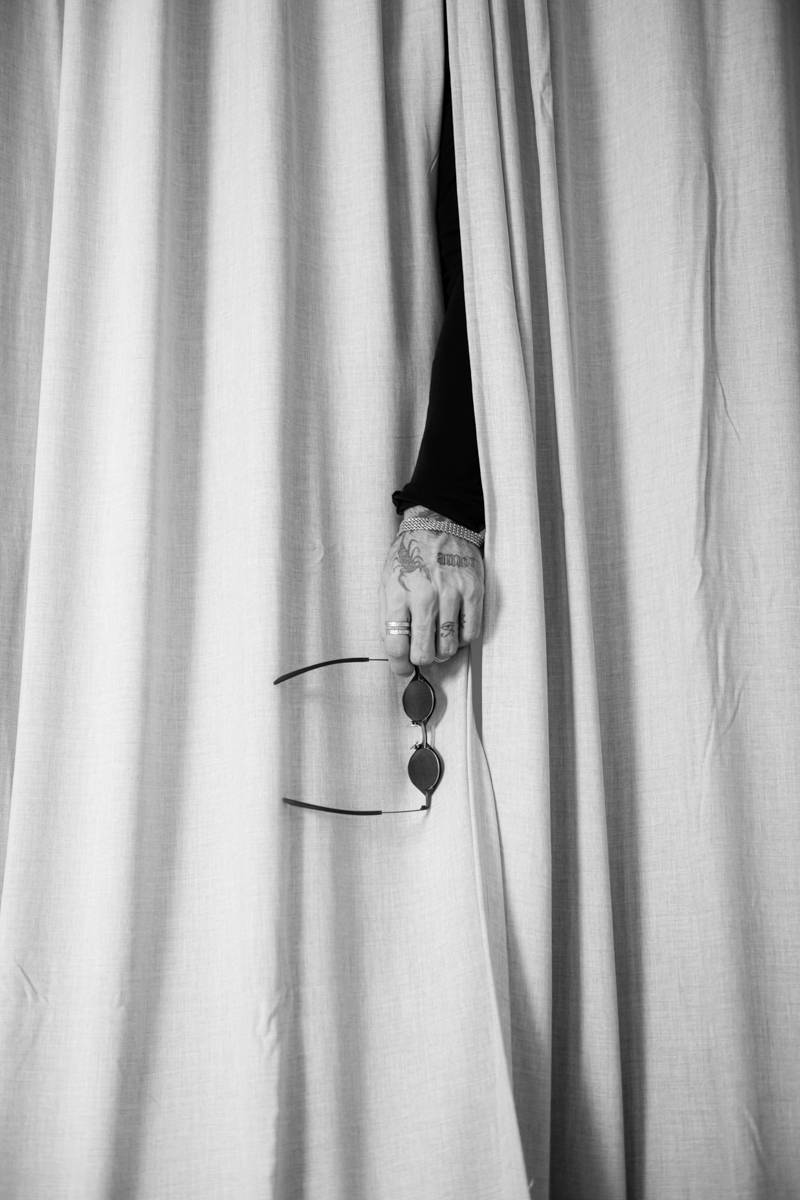 "SIMPLICITY IS
THE ULTIMATE SOPHISTICATION."
The minimalist aspect is even more rigorously focused than the equanimous one. He values understatement in every area of his life and consciously focuses on what he considers essential – in line with Chinese philosopher Lao-Tze: "Sorting out the inessential is the core of all wisdom." He is constantly looking for simplicity (but not triviality!) because to him, that is where the greatest sophistication lies. By doing so, he distracts from external appearances and directs attention towards his inner core, encouraging a direct dialog without a lot of rambling or digressions.

---
Idea / concept: Silvia Max | eigensinnig wien
Text: Martha Miklin | textstuecke.at
Models: Julian & Dario | Stella Models
Photography: Toni Woldrich | eigensinnig wien

---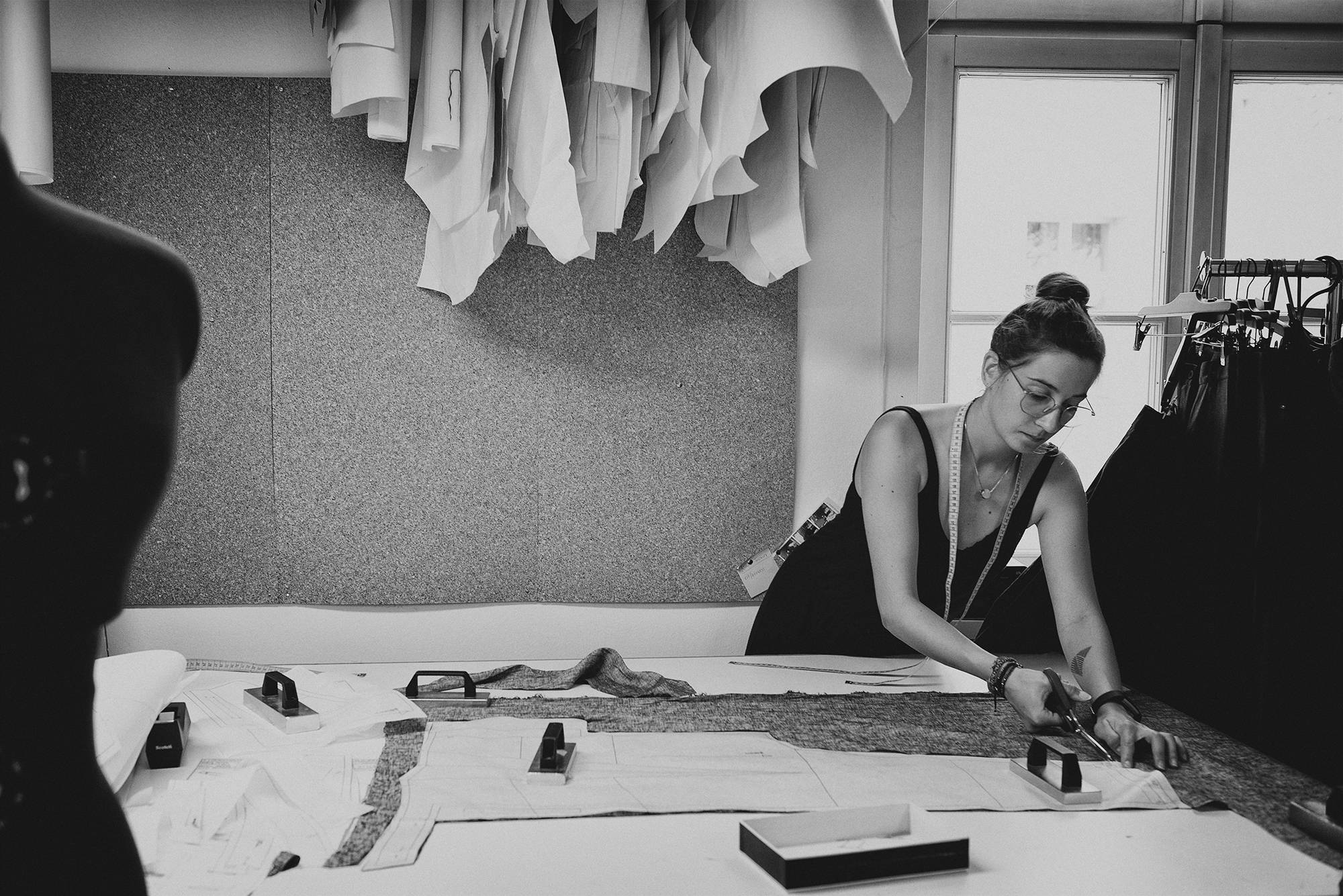 We have been a creative house for almost 10 years. We create designs that make our eigensinnig obstinacy visible. Tailor-made. According to your wishes, to accentuate your character.

If a model or your size is sold out, please contact us.

You wear a non-standard size? We can make it for you. Tailored to your body and your style.

Come and visit us at eigensinnig and let us advise you. We will create your desired style.